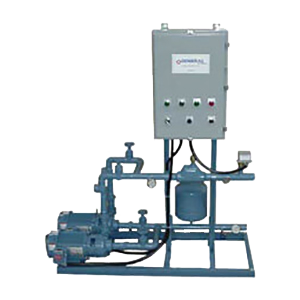 General Air Products Fluid Pumping Stations are built to be a reliable, low maintenance component in your fluid process. Each pump system is designed according to your specifications by our team of engineers and fluid process experts. Our years of experience with all types of applications assure that each pump system we design will meet and exceed your expectations.
Standard General Air Products Fluid Pumping Stations are provided in simplex or duplex pump configurations (though we've built many triplex systems and quad systems). Our pump systems are completely pre-wired and pre-plumbed on a steel base plate for ease of installation.
Technical Downloads
Custom Packaged Pump Stations
General Air Products has a wealth of experience manufacturing pumping stations for non-standard custom applications. Quality and dependability is our top priority no matter how demanding your requirements. Where we differentiate ourselves from other custom pump station manufacturers is after the sale support, at General Air Products we have knowledgeable engineers and support staff that are a phone call away.
Optional Configurations:
Available With Single/Three Phase Power
Simplex/Duplex/Triplex/Quad Configurations
Stainless Steel Construction
UL Listed Control Panels
NEMA 1, 3, 3R, 12, 4, or 4X Electrical Enclosures
CE Certification
Variable Drive Pumps
Remote Monitoring and Control
Features:
High quality close coupled centrifugal pump(s)
Expansion tank, air purger and air vent
Shut off safety valves
Temperature and pressure gauges
High quality flow switch
Reinforced steel base plate
Audible & visible alarms
Duplex unit has check valves & automatic throw over with alternation
Applications:
Process cooling circulation
Food & Beverage – wash down compatible
Deionized Water (DI Water) Fluid Pumping System
Glycol Fill Station Pumping System
Pump and Tank System for Pipe Coating
Mining
Glass manufacturing
Military equipment manufacturing
Metal cutting
Cooling baths
Papermills