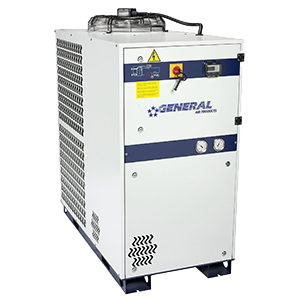 Few other pieces of equipment in your brewing outfit are as important as your chiller. Gycol chillers are at the helm of many brewing processes including the fermentation process, wort cooling, crash cooling, circulation cooling between tanks and stills, and storage of your final product.
Historically, local water was used to cool down brewing processes – and in a few select breweries, it's done that way to this day. Most are now turning to chillers due to their rapid cooling capabilities as well as water conservation. Chillers allow the glycol/water mix to be run on a closed loop, meaning no waste. Additionally, the quicker the mash is cooled, the less potential there is for bacterial growth.
There are several important factors to consider when selecting a chiller for your brewery, including quantity and BBL of your fermentation & brite tanks, your brewing capacity, as well as wort cooling requirements. General Air's team of process cooling experts are ready to help you select a properly sized chiller tailored to the unique needs of your business.
Our line of air cooled chillers is designed to be 'plug and play' for ease of operation. These closed-loop systems are engineered to minimize maintenance costs lowering the lifetime cost of the unit. Give us a call at 888-863-7389 to speak with us about your brewery today!