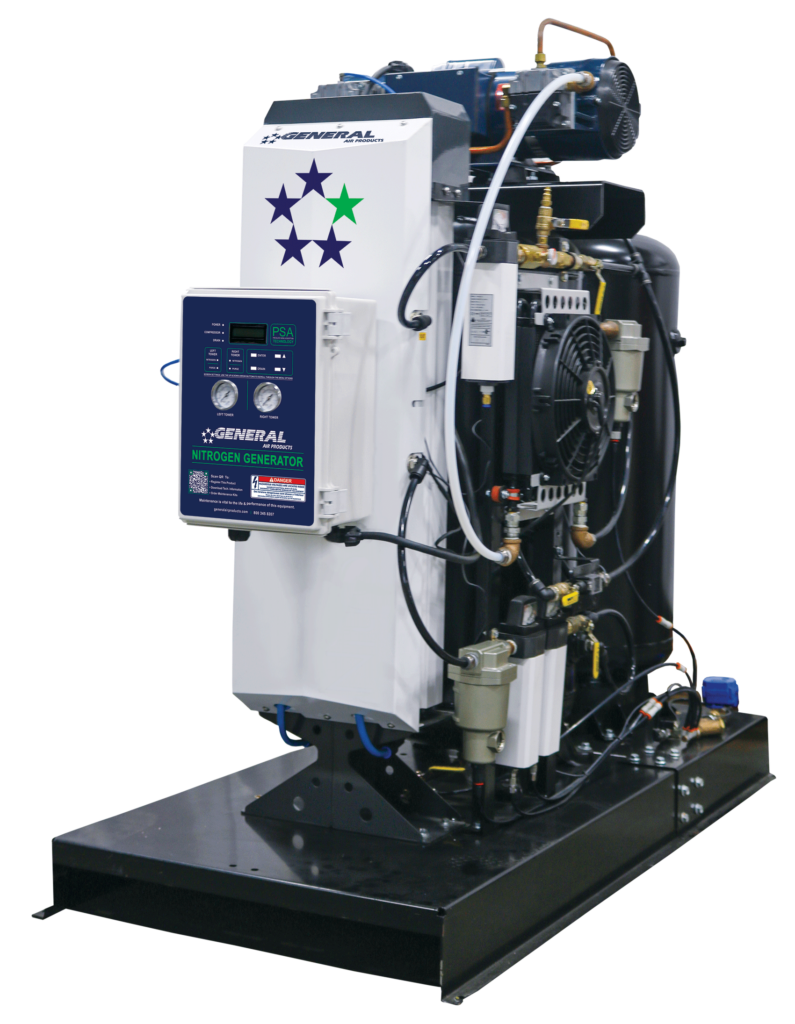 Introducing General Air Products Newest Line of Fire Protection Nitrogen Generators which utilize Pressure Swing Adsorption (PSA) Technology.
What makes PSA Nitrogen Generators different than standard Membrane Generators?
One word: Efficiency. Taking ambient air from a Fire Protection Air Compressor up to 98% purity Nitrogen requires a lot of output from the compressor feeding it, and the restrictive flow of Nitrogen Membranes stress on units supporting leak-prone Fire Sprinkler Systems. Pressure Swing Adsorption technology uses a series of valves to control the flow into two nitrogen generating chambers, which makes the flow of high-purity N2 into the Sprinkler System more efficient for the air compressor, and less taxing on the nitrogen generator as a whole.
Click on the model numbers to find additional product information and to order maintenance kits
Click on the model numbers to find additional product information and to order maintenance kits
Click on the model numbers to find additional product information and to order maintenance kits
Features & What's Included:
98% Nitrogen Purity Standard
Turn-key Design for Easy Installation
Requires Only One Power Connection
Pressure Swing Adsorption (PSA) Technology
Air Treatment Filtration
Fire Protection Air Compressor for 30min Fill & Maintenance Pressure
Bypass & Leak Detection Alarms
ASME Coded Air & Nitrogen Storage Tanks
Contacts for Tie-in to Building Monitoring Systems
Lifetime Customer Service & Technical Support
Nitrogen Generator Accessories