Oil-Less Tank Mounted Air Compressors For Dry Pipe & Pre-Action Fire Sprinkler Systems
General Air Products' newly improved OLT Plus Series Oil-Less Tank Mounted Fire Protection Air Compressors are specifically designed to fill dry and pre-action systems to supervisory pressure within 30 minutes per NFPA 13. Tank mounted oil less air compressors are recommended as the ideal air compressor type for dry pipe sprinkler system applications. We highly recommend a tank mounted compressor when an accelerator is required on the dry pipe sprinkler system. All of our OLT Plus single phase standard units are UL 1450-VDUR listed for fire protection. We include a 30" braided stainless steel flex hose and 4 vibration isolation pads to allow for a fast and easy installation. Our standard OLT Plus series units are single phase, pre-wired, adjustable up to 60 psi, and factory pre-set. High pressure, 3 phase, and 50 Hz OLT Plus Series units are also available.
Note: As of 2021 we redesigned our OLT Plus Series fire protection air compressors. Obsolete models have been replaced by the new models below. If you need technical information on the obsolete oil less tank mounted air compressors click here.
The OLT Plus Series Oil Less Tank Mounted Fire Protection Air Compressors cover 30 minute fill up times on sprinkler systems up to 1225 gallons in size.
Each individual system requires an Air Maintenance Device (Model AMD-1) per NFPA 13 when using a tank mounted air compressor. Multiple dry valves may be supplied from a single tank mounted air compressor when using our AMD-1 air maintenance device on each system.
Lead Time: 7 days to ship
For large orders & exact lead times, please consult factory.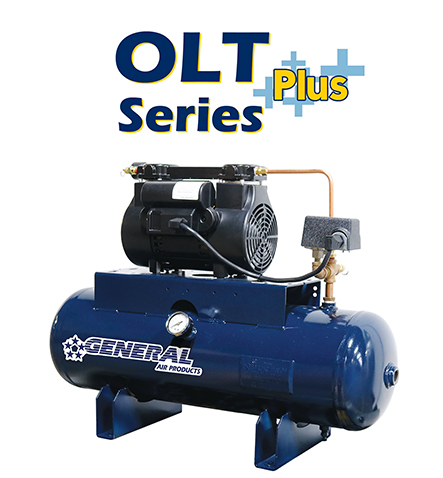 Click on the model numbers to find additional product information and to order maintenance kits
Click on the model numbers to find additional product information and to order maintenance kits